The purpose of On The Record: Detroit Moves, a project of Women On Wax, is to preserve the history of Detroit's electronic music scene for future generations. The goal is to create a free and easily accessible platform of information that tells the stories of our music from the people who made it. It is meant to become a tool for both Detroiters and non-Detroiters to familiarize themselves with the DJs, producers, pioneers, musicians, promoters, clubs, photographers, and of course, the dancers, who created, nurtured, and lived House and Techno music in the City of Detroit.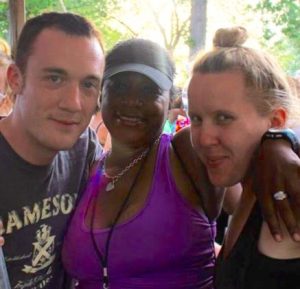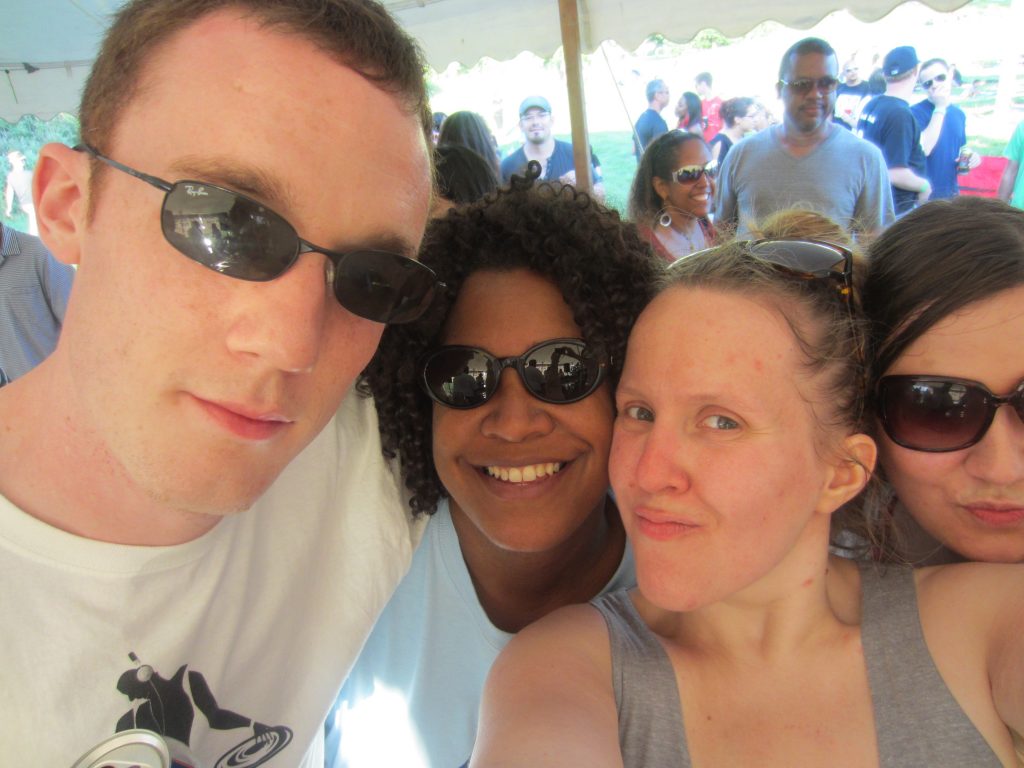 Jessica and Michael
Where were you born, and where did you grow up? Where did you go to school (elementary through college)?
JL: I was born in Rochester, lived in Ann Arbor, Leonard, and Lake Orion, and from ages five through twelve, I grew up on Lillibridge Street on the East Side of Detroit. I attended Friends School in Detroit, Grosse Pointe North High School, and I earned a BA from Wayne State University and a MSc from the London School of Economics.
MD: Eastside of Detroit-St. John Hospital. Grew up in Grosse Pointe Woods-Schools were Monteith Elementary (K-2) Ferry Elementary (3-5) Brownell Middle School (6-7) and Eton Academy.
What musicians, groups, or genres of music did you grow up with?
JL: I grew up with Disco, Alternative, Hip Hop, Pop, and R&B. My favorite bands were The Cranberries, Ace of Base, Spice Girls, Backstreet Boys, Nirvana, Beastie Boys, ABBA, Barry Manilow (also my first concert), and the Bee Gees, among others. 
MD: Third Eye Blind, *NSYNC, Backstreet Boys, Hanson, Tupac, Notorious BIG, Inner City, Richie Hawtin, Jeff Mills/The Wizard, Prodigy. Anything alternative rock/Hip hop/R & B (and of course House and Techno). 
What was the first party or club that you attended?
JL: I don't remember the first, but one of the best early experiences was at Spiral in Lansing with two of my best friends, Jeron and Krissi, after seeing Bitch and Animal.
MD: The first club I attended would have been The Works when I was only 17, but my every Saturday night spot from 18 up was Backstreet (The original on Joy Rd).
What is the first record/tape/CD you purchased?
JL: "Everybody Else Is Doing It, So Why Can't We?" by The Cranberries.
MD: The first CD I ever bought was the original Hanson album. Yes, really. And I'm still proud of it. 
Who are some of your favorite Detroit DJs and producers, and why? 
JL: Mikey, Paul, and Jeron started taking me out to see DJ Minx, Jenny LaFemme, and Norm Talley, and they will always be among my favorite DJs for nurturing my love of House. From there I discovered John Johr, Pirahnahead, Moody, Al Ester, Earl McKinney, Hotwaxx, Rick Wilhite, John Collins, DJ Psycho, House Gallery, Jeff Mills, Marcellus Pittman, Delano Smith, etc.
MD: My favorite DJs and producers in Detroit would have to be DJ Minx – really like her soulful house Detroit sound, Kevin Saunderson, Carl Craig, Al Ester, Norm Talley, Delano Smith, Haute to Death, Jeff Mills, Detroit Techno Militia, too many to list! 
How do you think living in the City of Detroit influenced you?
JL: We maintain the legacy of being from a city that has seen multiple uprisings, crashes, and rebirths, and that knows what it means to hustle. Detroiters understand the sense of hope as enshrined in our city's motto, we are resilient, and we are resolute in our commitment to the city that has raised and nurtured us. The spirit of Detroit lives inside each of us.
MD: Living around the city of Detroit (as well as in it for a period of time) has really opened me to the sounds of techno and house. I don't know that I would be so into this sound if it wasn't for where I geographically grew up. 
What are some of the songs that will get you on the dance floor no matter what?
JL: "Momma's Groove" and "Dionne" by Osunlade, "I Can't Kick This Feelin When It Hits" and "Shades of Jae" by Moodymann, "Can You Feel It?" by Mr. Fingers, "Strings Of Life" by Derrick May, and basically anything DJ Minx has on rotation, past and present. 
MD: Songs that will get me on the dance floor no matter what are "Missing You" by Ross Couch, "Good Life" by Inner City, anything Detroit will get me out! 
What are some of the most memorable parties you've attended?
JL: Charivari Detroit is like a family reunion. Inside Out! in 2011 with Quentin Harris & Pirahnahead changed everything. During Movement 2013 when I found myself backstage during Cajmere's set. The 2013 Chosen Few Festival. Backpack Music Festival (every year). Nights at Exodus, The Works, and The Mars Bar were all a hot beautiful mess with the people I loved.
MD: The most memorable parties that I've attended (not counting Movement or Charivari) would be when I saw Jeff Mills perform as The Wizard at the Works in 2010, and when I used to see Norm Talley play in the basement of the Fisher Building. 
Who are your personal heroes, and why?
JL: Viola Luizzo, a white woman from Detroit who studied at WSU, saw the reports of Bloody Sunday and felt compelled to drop everything and go down south to join the fight for equality. I also come from a long line of quiet but mighty women who instilled in me a fierce resolve to do what needs to be done, and to be creative along the way.
MD: My personal heroes include Barack and Michelle Obama for their dedication to this country, Nancy Pelosi for her work against AIDS epidemic in the 80's, and non politically my heroes are all of the Detroit DJs and producers who bring everyone together on the dancefloor no matter what! 
What do you hope your legacy will be?
JL: I hope I will be remembered as a hot mess House Head, who always did her best, who loved her city, who stayed humble, and who did some good for her communities. 
MD: I hope my legacy will be to continue to influence the younger generation to get into this music and hope it changes their lives as much as it did mine. 
Photo/image credits: personal collections, Marius Bingue