On Monday, May 30, Minx is hosting some of her favorite DJ friends from 2pm to 11pm at the Pyramid Stage, and playing a special set starting at 8pm.
After that, she's continuing her hostess duties into the night at Spot Lite with more of her favorite people.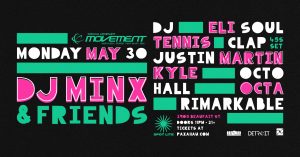 And she's playing the KMS/Inner City Movement Afterparty at The Magic Stick alongside Inner City, Louie Vega, and Michael Geiger.

See you on a dance floor soon, family! xo