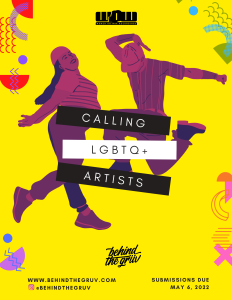 In honor of Pride 2022, the WOW family is calling on our artists and creators to submit designs for our exclusive line of clothing by and for our community.
Through July 15, 25% of proceeds from sales with your design will go to you, the creator, and 25% of proceeds will be donated to the Ruth Ellis Center, which creates a supportive community and provides trauma-informed services for LGBTQ+ youth and young adults of color in Detroit.
To check out the clothing your work will be featured on, visit our website. Submissions may be sent to info@behindthegruv.com by May 6, 2022, after which the review process will be made public.
We welcome original artwork that elevates our community through messages or design. Please note that all hi-res designs must fit into the following parameters:
The max dimension for tanks is 12×16″
The max dimension for leggings w/pockets is 34×40″ and for leggings w/waistband 34×20″
The max dimension for sports bras is 25×22″
The max dimension for t-shirts is 26×33″
For more information on dimensions, contact info@behindthegruv.com.
Now more than ever, let's come together to lift each other up.