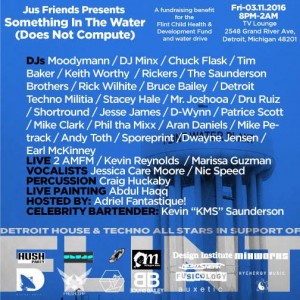 On March 11th, Detroiters are coming together for Flint and its children.
Some of Detroit's finest are showing out for this event (including Minx, who is playing at midnight back to back w/Patrice Scott), with all of the proceeds for the event going to affect residents and the Flint Child Health and Development Fund.
This isn't about politics or placing blame. This is about family. This is about Michigan.
The lineup is Detroit, the love is for Flint. Let's show everyone what we're about.
For more information: Click on this link to the Resident Advisor page
Tickets also available at Detroit Threads and Spectacles!
Musically yours,
Minx