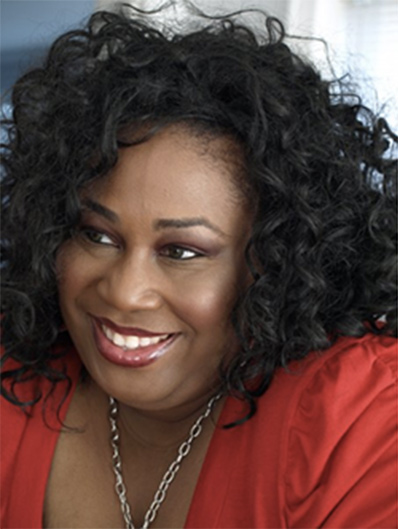 There are few extremely talented singer-songwriters in world of house music, and Diviniti is certainly one of them. A true lady of Detroit house, Diviniti writes uplifting songs and has a distinctive vocal style, which incorporates eloquent wordplay and an angelic grace. Diviniti cites numerous influences including songwriters and vocalists in classic rock, jazz, R&B, and soul music circles. Diviniti made a name for herself alongside close collaborators Pirahnahead and DJ Minx and she has gone from strength to strength since her early releases.
Growing up on the West Side of Detroit, Diviniti, the youngest of six children, developed a passion for music at an early age. She studied classical violin and was a founding member of a gospel choir in her high school. It was around this time that Diviniti began to write songs and discover a love for house music. During this period she gained her first studio experience, which included a recording session with famous local DJ/producer Terrence Parker. Although the material they recorded was never released, this work provided a glimpse into her future.
In February 2003, Diviniti met Pirahnahead and the pair started a fruitful partnership, which has seen them create a number of dancefloor staples. Pirahnahead introduced Diviniti to DJ Minx, who chose to release a number of these collaborations, namely Find A Way, Love Will Stay, Live For The Night and Can't Explain on her renowned Women on Wax label. The Live For The Night 12" included a remix by DJ Spinna. DJ Minx and Diviniti worked together under the name A Taste of the Honeys on The Essential EP, which was also released on Women on Wax. In 2008 the title track of their EP was remixed by noted producers Mr. V (NYC) and Nick Holder (Toronto).
Diviniti's music has been released on a number of other record labels. Find A Way was licensed to the NY based King Street Sounds imprint, where it was re-released with an edit from Disco don Danny Krivit. Poem for a Lost One saw the light of day on Mike Grant's Moods and Grooves imprint, as remixed by Mr. G and Black Music aka Solid Gold Playaz. Cult Detroit house figurehead Moodymann edited and then released Love (a duet between Pirahnahead and Diviniti) on his Mahogani Music imprint. Later this year, the well known UK based Soul Heaven is set to release Just Like a Dream- another powerful collaboration produced by Pirahnahead.
In 2006, Diviniti participated in Shuya Okino of Kyoto Jazz Massive's United Legends project, which brought together a number of celebrated producers and vocalists. She wrote a song for United Legends called Shine, which was produced by DJ Kawasaki. Shine proved to the most successful track of the project and it spent several weeks at the top of the iTunes Japan jazz, dance, and J-pop charts. Shine was subsequently remixed by Mood II Swing and Pirahnahead, and 'replayed' by Japanese jazz dons Sleep Walker for further 12" releases on Especial Distribution. Her recent collaboration with The Rurals front man Andy Compton, In Love, Again, has received acclaim and airplay across the globe.
Diviniti's music has been selected for compilations put together by renowned DJs such as Joe Claussell, Moodymann, Rainer Trüby, Phil Asher, Joey Negro, Blaze, Yashudi Ide and Louie Vega. Her music has been licensed to labels such as Defected and suSU in the UK, King Street Sounds and Mahogani Music in the USA, Especial and Grand Gallery in Japan and Sheer House and CCP Record Company in South Africa. Additionally, "Diviniti Sings", a collection of some of her best work compiled by DJ Kawasaki, was released in mid 2009 exclusively in Japan.
Although Diviniti is best known for her studio recordings, she has also made in-roads as a songwriter for other artists. She has songwriting credits for Carolyn Victorian's Sunshine, Pirahnahead's Music, and 2getherness by Eric King – all released on Pirahnahead's own Whasdat Music imprint. Diviniti also co-wrote Pirahnahead feat. Yaminah Brock's I Do Love U, a song that appeared on Detroit Beatdown EP Vol. 2 on Third Ear Records. There are other songwriting projects in the pipeline from this talented individual.
On stage, Diviniti is an excellent live performer. She performed live at Detroit's Movement Festival in 2005 with a 10-piece band and in 2006 alongside DJ Minx. She has also performed at the Winter Music Conference in Miami, FL numerous times, and at various clubs in Detroit and New York. Her international appeal has been reinforced by her live performances as well as record releases. She has performed in Italy, Switzerland, and in Japan, at the 2006 and 2007 Tokyo Crossover Jazz Festivals.
Diviniti is an established songwriter and vocalist with an impressive body of work. She is set to build on the successes that she has already achieved in house music and other circles in the future. Her first solo album, entitled Divine Intervention, will be released by Women on Wax. The release of the LP will mark the dawn of another chapter in her career.